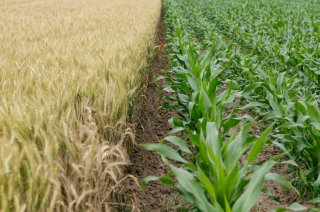 ERA-NET Cofund SusCrop
Sustainable Crop Production
Need for improved crop quality and yield with resource-use efficient practices
Currently, the global production of crops requires excessive amounts of water, pesticides, chemicals and energy. New ways of sustainable crop production have to be explored in order to increase productivity and to improve the quality of crops whilst simultaneously reducing the use of chemicals. Moreover, it is important that sustainability aspects cover the whole food value chain and address topics including (but not limited to) crop diversity and resilience, resource use efficiency, nutrient recycling, ecosystem services, minimal environmental impacts, integrated pest management, reduction and re-use of waste, and achievement of food and nutritional security. Only by securing and enhancing sustainable crop production food and nutrient security for a growing population under climate change can be ensured.
Transnational research on sustainable crop production
To address this global challenge, 34 partners from EU Member States, EU-associated States and Third countries with significant experience in research funding and coordination come together in SusCrop, an ERA-NET Cofund Action under H2020 with a total indicative funding of 17.2 million euros. SusCrop addresses the core research theme 2 "Environmentally sustainable intensification of agricultural systems" of the FACCE-JPI Strategic Research Agenda, and it aims to strengthen the European Research Area (ERA) in the field of Sustainable Crop Production through enhanced cooperation and coordination of different national and regional research programmes.
The expected impact of the ERA-Net cofund is to contribute to developing cropping systems with improved performance in terms of reduced environmental impacts, resource-use efficiency and product quality. This will help the farming sector adapt to changes expected to result e.g. from emerging resource scarcity, environmental variation, demography, consumer preferences, and global trade. The SusCrop network held is first kick-off meeting in Berlin in Germany in 2018.
---
Joint ERA-Nets Call 2021
The 4 ERA-NET Cofunds SusAn (Sustainable Animal Production Systems), FACCE ERA-GAS (Monitoring & Mitigation of Greenhouse Gases from Agri- and Silvi-culture), ICT-AGRI-FOOD (ICT-enabled agri-food systems) and SusCrop (Sustainable Crop Production) launched launch a joint call for transnational interdisciplinary research projects on "Circularity in mixed crops and livestock farming systems with emphasis on climate change mitigation and adaptation" in spring 2021. This joint Call consists of 30 public funding parties from 16 European countries, 3 EU-associated countries and 4 from other countries, including both funders from non-European countries and international networks.
Second Call 2020
The ERA-NET SusCrop partners launched a second joint Call in the field of sustainable crop production, intended to support scientifically excellent transnational research, development and innovation projects that contribute to the improvement of sustainability (environmental, economic and societal) and resilience of crop production. In addition, the Call put greater emphasis on how projects might contribute to food and nutritional security in the light of climate change. Funding agencies from 12 different countries contributed. Eight projects.were selected for funding.
First Call 2018
The first trans-national co-funded Call led to the selection of 13 research projects ranging from 'Increasing productivity and sustainability of European plant protein production by closing the grain legume yield gap' to 'Harnessing the potato-microbiome interactions for development of sustainable breeding and production strategies'.
---
Kick-off meeting projects of the 2018 Call
The research projects had their kick-off meeting on the 9th of September 2019 at ILVO in Belgium which was followed by two workshops, one on sustainability and resilience assessment, and one on data harmonisation.
Kick-off meeting SusCrop and first Joint Workshop
Both events were held on the 28th of February and the 1st of March respectively, at the Angleterre hotel in Berlin, Germany. The Joint workshop focussed on "ERA NETs' exchange on joint activities - opinions and plans on solutions for sustainable agricultural systems". This interactive workshop with 44 participants generated interesting ideas and proposals for possible common actions. A joint activity with another funding initiative as additional call for SusCrop seems reasonable to aim for the end of 2019 or beginning of 2020.
In the introductory round, representatives of each related EU initiative presented a short overview of their activities with some expectations towards the complementary value in a potential future cooperation.